nov 10th, 2010
---------- Forwarded message ----------
From:
Friends of Tibet
<
support@friendsoftibet.org
>
Date: Mon, Nov 8, 2010 at 12:42 AM
Subject: [FoT] "Health and Harmony Through Tibetan Medicine"
To:
friendsoftibet@lists.ibiblio.org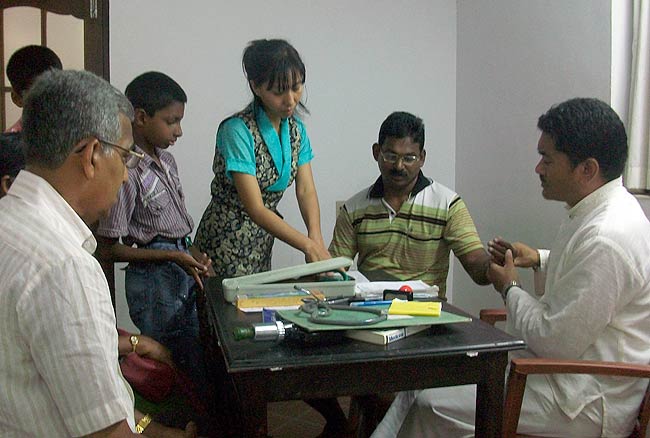 Friends of Tibet in association with Changampuzha Nagar Elders Forum to host the 4th Tibetan Medical Camp from November 18-21, 2010 at the Changampuzha Nagar School Building, Kalamassery, Kochi 682 033. The camp will be led by Dr Dorjee Rapten Neshar, Chief Medical Officer of Bangalore branch clinic of Men-Tsee-Khang, the Tibetan Medical & Astrological Institute of His Holiness the Dalai Lama.
On Saturday, November 20, 2010, Dr Dorjee Rapten Neshar will deliver a lecture on "Health and Harmony Through Tibetan Medicine" followed by the screening of a documentary on Compassionate Tibetan Holistic Healing. To know more and for registration, contact VJ Jose at: +91.9895103483, +91.9995181777 or email kochi@friendsoftibet.org.
Tibetan medicine is a centuries-old traditional system encompassing spiritual,medical science and social behavior in the paradigm of holistic health. Disease or imbalance is diagnosed mainly through pulse analysis, urinalysis and healthy interrogation and understanding of one's dietary and life style factors. Herbo-mineral formulations in the form of pills, powders, decoctions etc and several accessory therapies are used to treat illness. Proper diet and lifestyle changes along with healthy mental attitude will be strongly emphasized. The Tibetan medical system is based upon a synthesis of Ayurveda, Unani, Greek, indigenous Tibetan, and Chinese medical systems. It is practiced in Tibet, India, Nepal, Bhutan, Ladakh, Siberia, China and Mongolia, and more recently in parts of Europe and North America. It embraces the traditional Buddhist belief that all illness ultimately results from the "three poisons" of the mind: ignorance, attachment and aversion. Therefore, the mind, body and spirits play very crucial role in understanding and the treatment of disease as a whole. The Chinese invasion of Tibet in 1959 and the notorious Cultural Revolution that took place from 1966 to 1976 virtually destroyed all the precious cultural heritage of Tibet and Tibetan people including its ancient medical system. How ever, the efforts of the Government in Exile headed by HH the Dalai Lama has established in 1962, the Men Tsee-Khang (House of Medicine and Astrology) at Dharamsala in Himacahl Pradesh which now has 55 Branch clinics all over India and Nepal. Dr Dorjee Rapten Neshar and his medical team cover the health services through Tibetan Medicine in Bangalore, Chennai, Hyderabad and other south Indian cities and towns.
Friends of Tibet, PO Box: 16674, Bombay 400050, India.
. . . . . . .

Friends of Tibet is a people's movement to keep alive the issue of Tibet through direct action. Our activities are aimed at ending China's occupation of Tibet and the suffering of the Tibetan people. Friends of Tibet supports the continued struggle of the Tibetan people for independence. Friends of Tibet is also one of the principal organisers of World Tibet Day around the world. To know more, visit:
www.friendsoftibet.org

. . . . . . .
_______
friendsoftibet mailing list
friendsoftibet@lists.ibiblio.org
http://lists.ibiblio.org/mailman/listinfo/friendsoftibet