using innovation theory from clayton christensen of harvard to decode the modi phenomenon. and also how he's the anti-nehru
Modi, The Great Disruptor
 To get such articles in your inbox
October 30, 2014 21:21 IST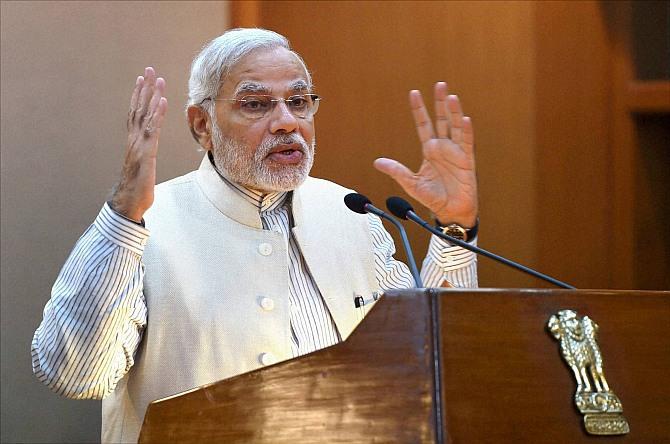 'Modi, focused on youth and their aspirations, has articulated a truly disruptive change: One of hope, of duties rather than rights, of standing up to the world instead of being bullied by it,' says Rajeev Srinivasan.
As I write this on Diwali day, an Indian prime minister spent the day with the troops on the Siachen glacier. Furthermore, Narendra Modi cancelled all celebrations, and instead visited victims of severe floods in Jammu & Kashmir. In addition, there is speculation that he will soon visit the shrine at Sabarimala in Kerala. All these, if I am not mistaken, are first-time acts for Indian PMs.
And they are symbolic: He is thanking the soldiers whom the nation owes a debt of gratitude; he is telling Kashmiris on this most important festival in the Hindu calendar, that they too are part of the national fabric despite the fact that some of them are religious fanatics and separatists; and by going on the difficult climb up vertiginous hills to Sabarimala he will reaffirm that he is a humble, ordinary Hindu, the chaiwallah taunt that he deftly turned into a badge of honour.
Modi is a thoroughly 21st century leader, who knows the power of symbols and of the Internet. He realises that whatever he does will be instantly analysed and judged by hundreds of thousands of both his loyal supporters and critical detractors.
For instance, within minutes of his government announcing that it wouldn't be able to reveal the names of those who had secret Swiss accounts, even long-term fans criticised him on Twitter and Facebook.
The age of instant communication has made it possible for the PM to, in effect, reach out directly to the people without the usual paraphernalia of press conferences, press releases, weighty op-eds and talking heads discussing big things on television. He is going over the heads of the intermediaries, rendering them largely superfluous. And about time too: I read somewhere that there is a G-37, a gang of the same 37 'experts' in Delhi who are trotted out to analyse anything and everything on television chat shows, including things they have absolutely no knowledge of or experience in.
And Modi is undoubtedly a Great Communicator. In full flow in Hindi, he is a spell-binding orator, mesmerising even someone like me who knows little Hindi and no Urdu. He has the audience in the palm of his hand, and he can make the language dance, sing, do somersaults, whatever he pleases. He has a magnetic personality, somewhat akin to Apple founder Steve Jobs with his 'reality-distortion field.' You want to believe in him, and you do. Modi is larger than life: and it is not just Indians who fall under his spell.
... delete
--
sent from samsung galaxy note, so please excuse brevity