China is our bitterest enemy today
To get such articles in your inbox
July 13, 2016 14:05 IST
'Today the Chinese think they can slap India, and there will be no consequences.'
'China must be made to feel the consequences through any and all means,' says Rajeev Srinivasan.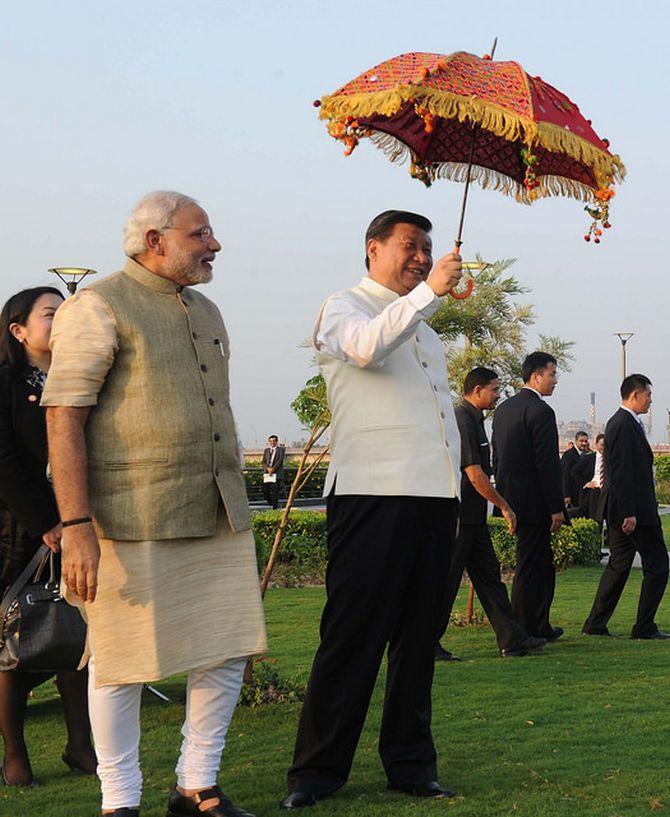 IMAGE: Prime Minister Narendra Modi with Chinese President Xi Jinping in Ahmedabad, September 2014. Photograph: MEA/Flickr
It has all the makings of a pantomime story or even a Bollywood potboiler: The hero reaches out a hand in friendship, the villain slaps it away.
Instead of learning from this mistake, the hero, once again, reaches out and tries to make peace, but no, the villain doesn't want it. Then, finally, after all other options are exhausted, the hero is forced to take a stand and fight for his rights.
That's roughly how things are between India and China. Time after time, India attempts to make friends with China, but each time there is bitter disappointment. But yet, the next time, not having learned from every previous experience, India tries again.
Didn't we learn anything from Tibet, 1959, the India-China War, 1962, the screwdriver-job Pakistani nuclear bomb, 1989, the interminable and infructuous border talks, 1962 till today, and now, NSG, 2016? Or even from the experience of the Pandavas in the Mahabharata, thwarted at every turn by Kaurava hostility and recalcitrance?
I couldn't believe it when the foreign ministry spokesman tweeted on July 2 how India would not retaliate against China by blackballing it in MTCR (the Missile Technology Control Regime) just like China, alone, just thwarted India's entry into the NSG (Nuclear Suppliers Group).
Why do we make these entirely unnecessary, unilateral concessions? This is like the grand statement that India will abjure the first use of nuclear weapons. Yes, it's good moralising, but that gets us nothing. Better to be coy.>
...deleted
--
sent from samsung galaxy note3 neo, so please excuse brevity