http://www.rediff.com/news/column/mr-pm-give-us-the-freedom-to-achieve-economic-success/20150817.htm
Mr PM, give us the freedom to achieve economic success
To get such articles in your inbox
August 17, 2015 14:46 IST
After many false starts, India may well be at the inflexion point that Deng Xiaoping took China to post-1978. The window of opportunity is wide open right now, says Rajeev Srinivasan.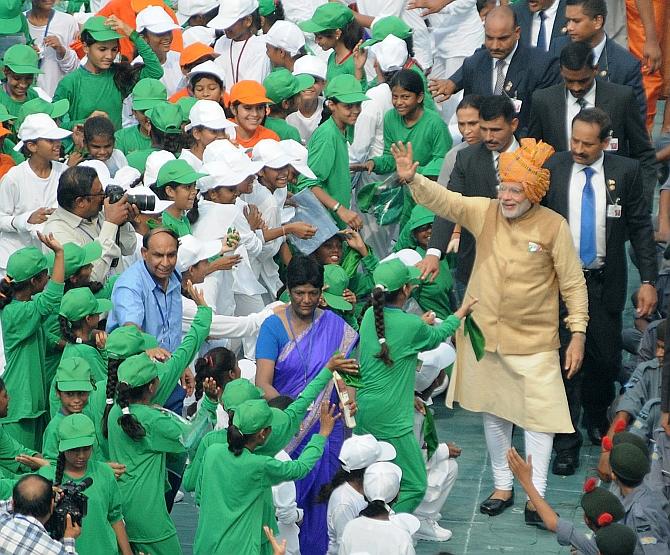 IMAGE: Prime Minister Narendra Modi with school children soon after his Independence Day address to the nation, August 15, 2015. Photograph: Press Information Bureau.
'But freedom?' the notes would sing...
Parole is enough. Tonight
Below the fire-crossed sky
Of the Festival of Light.
-- Vikram Seth, Diwali
Some years ago, I wrote on another Independence Day that we had formal independence, but not real freedom. Freedom from want, freedom of thought, freedom to seek self-actualisation. My friend, the UC Berkeley economist Atanu Dey, suggests that political freedom (such as it is) is not real freedom: Only economic freedom is meaningful. By that measure, Indians are far from free. So is there really anything to celebrate?
The standard memes were trotted out. The chatterati waxed eloquent about the same old themes they have flogged all these years. But that doesn't make the smallest difference to those who really struggle for their daily bread. And we see these people all the time: Those child beggars who pluck at your sleeves, that old woman who carries an unbearable burden of vegetables on her head, the rail-thin, dark-skinned people living under tarpaulins on waste land.
--
sent from samsung galaxy note3 neo, so please excuse brevity