Hinduphobia: Intolerance, racial and religious
To get such articles in your inbox
February 19, 2015 10:45 IST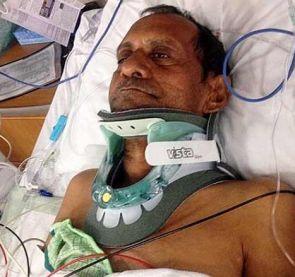 'I do hope the Patel family sues the hell out of the state of Alabama, and I hope the Hindu American Foundation and other community organisations are helping with legal aid and monetary support.'
'For, there is reason to believe that it is religious and racial bias that led to the incident: In other words, a hate crime. There is no reason to suffer that silently,' says Rajeev Srinivasan.
I was in the San Francisco Bay Area last week. So far as I can tell, the #BlackLivesMatter protests (external link) over police brutality in the shooting of teenaged Mike Brown in Ferguson, Missouri, have run their course, and we are back to business as usual.
In the meantime, of course, President Barack Obama has made two rather unfortunate speeches alleging religious discrimination in India. Given American moralising, this is par for the course -- but two incidents suggested that the emperor is the one without clothes.
One could make the case that there is considerable phobia against non-Christians in the US, and on occasion this has led to violence. Of course, there is much racial discrimination as well. Blacks have long complained about the 'driving while black' syndrome, whereby a random black driver is far more likely to be stopped and questioned by police than a white: They are in effect guilty until proved innocent.
On the other hand, in a recent book, Ghettoside, Los Angeles Times reporter Jill Leovy shows how rampant crime against blacks goes unpunished, as the police don't care to investigate adequately. I'd like to ask the sanctimonious POTUS, 'Wouldn't Martin Luther King be shocked that happens to blacks?' It appears Mississippi Burning is relevant even today, 50 years after civil rights marchers Schwerner, Goodman and Cheney were murdered by bigots.
Racial prejudice by the police affects browns as well, as in the sad case of Sureshbhai Patel, a 57-year-old Indian grandfather visiting his developmentally-challenged, 17-month-old grandchild.
Patel was slammed to the pavement by a white policeman, paralysing him. His crime? 'Walking while brown': All Mr Patel did was walk in the neighbourhood where his son lives in Alabama. A neighbour complained that a 'black man in his 30s was walking in driveways, peering into garages.'
... deleted
--
sent from samsung galaxy note, so please excuse brevity